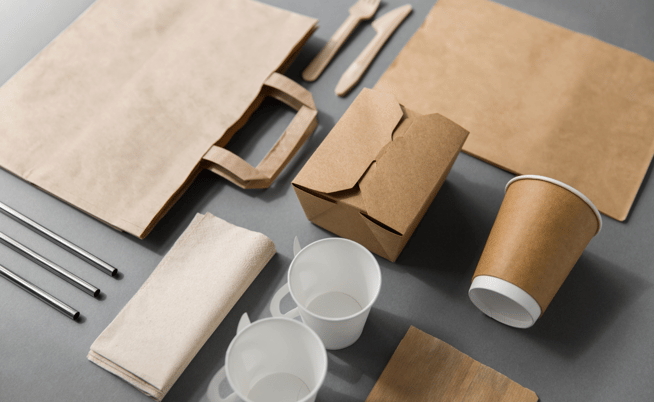 Packaging waste is an urgent global problem, and the food industry is poised in a unique position to make lasting, impactful change while serving as an example to other retail sectors. Grocers will find that prioritizing planet-friendly packaging not only benefits the environment and the bottom line, but it attracts consumers who are motivated to make their own positive impact.
Innovation in sustainable packaging increases with every year that corporations and consumers gain more awareness of the critical importance of reducing environmental footprints—no matter how big or how small. Sustainable packaging is any product packaging that can be easily and thoughtfully recycled, reused, or both. Consumers recognize efforts made by brands to make product packaging recyclable and/or reusable and are more likely to educate themselves on the impact of sustainable packaging if they are presented with the option. Read on to find out more about how some specific CPGs, brands, and small companies are taking innovations in sustainable packaging to another level.
CPGs: Procter & Gamble, PepsiCo, Mars
Consumers are putting increasing pressure on CPG companies to reduce plastic waste—and it's no surprise why. Large CPGs are in a critical position to address sustainability in packaging, accounting as they do for such a large percentage of products sourced by grocers and such a massive accumulation of packaging waste.
CPGs like Procter & Gamble, PepsiCo, and Mars know taking sustainability seriously means pledging dynamic and distinct goals. Take this excerpted copy from P&G's webpage on Environmental Sustainability:
"Our brands are pursuing a range of solutions with the aim to make packaging more sustainable. As a company, we've committed to ensuring 100% of our packaging will be recyclable or reusable by 2030 and to reducing virgin petroleum plastic in packaging by 50% by 2030. We're innovating, collaborating and taking action to unleash the circular economy across our portfolio of brands."
From this concise snippet, a consumer can clearly pinpoint P&G's commitment to increasing sustainable packaging, as well hone in on a numerical objective for specific change by a specific year. On the rest of the page, P&G elucidates further on innovations in their product packaging. For example, European P&G has begun manufacturing new aluminum reusable, refillable bottle systems for Pantene, Aussie, Head & Shoulders, and Herbal Essences brands, along with fully recyclable refill pouches made with 60% less plastic than standard shampoo bottles.
The company hopes to achieve 100% recyclable or reusable packaging globally by 2030. This ambitious plan is a necessity; how CPGs handle their environmental impact—in production, in shipping, in supplying—in the next decade will make a definitive impact on the environment.
Like P&G, PepsiCo is attempting to reduce packaging waste in order to lessen the environmental impact of its products. From their 2019 Sustainability Report:
"Our approach is based on three interconnected strategies: reducing the amount of plastic that we use, recycling more plastic to support a circular economy, and reinventing the plastic packaging we use. 
To truly scale a circular future for plastics, it will require innovation and cooperation at every stage of the plastics value chain. PepsiCo will drive change by working with a broad group of partners, including industry peers, nonprofit organizations, and people and companies throughout the plastics supply chain. We are investing in and advocating for improved recycling infrastructure, as well as educating and actively empowering consumers."
Those three objectives—reduce, recycle, reinvent—pave a clear pathway for the company to embrace the reduction and innovation of current plastic output and waste. In the same report, the CPG illustrates a goal to design 100% of their packaging to be recyclable, compostable, or biodegradable by 2025. Considering the overwhelming prevalence of plastic in current PepsiCo products—one need not think beyond plastic soda bottles—this bold challenge is, again, a necessity given the current state of plastic-based packaging waste.
Mars is making similar investments in sustainable packaging. The CPG is trialing innovative re-use programs that involve durable, reusable single-use plastic packaging; incorporating recycled plastic into pet food packaging as a step toward reducing the use of new, virgin plastic; and is even exploring a future in biodegradable packaging.
Large corporations have the potential to make large and positive impacts through changes toward sustainable packaging. With brand leaders like P&G, PepsiCo, and Mars making great dynamic strides in reducing packaging waste, a future of far less waste and more innovative sustainable packaging is already in motion.
Sustainable Packaging in Produce: Wholesum
Produce packaging may not always be at the top of the list when it comes to sustainable solutions—but think of all the plastic wrappings, cartons, and bags with which certain varieties or brands of produce are packaged. Sustainable packaging that can be easily recycled or reused should exist even in the produce section. Companies like Wholesum agree. As a family-owned company, Wholesum is making great strides in sustainable packaging. Produce is grown organically and sustainably, and they recently released a line of sustainable packaging for vegetables including cucumbers, zucchini, yellow squash, bell peppers, and tomatoes. The Fair-Trade certified produce is packaged in recyclable and biodegradable corrugated trays and secured with biodegradable bands. Each tray is custom made to fit two counts of each vegetable and 1 pound of tomatoes on the vine.
Making even minimal produce packaging sustainable makes a difference. The practice of purchasing responsible packaging will appeal to consumers who pay close attention to sustainable choices—and for some, it eventually becomes second nature.
Reusable Packaging: Pots & Co, Oui by Yoplait
While some sustainable packaging focuses on the post-consumer recycling process, some brands are taking a slightly different approach. Pots & Co is one example. A premium dessert company that recently expanded its reach into the U.S., Pots & Co's indulgent desserts are made with clean, all-natural, high-quality ingredients that include sustainably sourced Colombian cocoa.
All of the company's desserts are baked right into hand-crafted ceramic pots that not only assure freshness and decadence but can be reused or recycled post-consumption. "Our pots aren't just pretty to look at," reads the company's "Why Ceramic" page. "They're reusable! Need a place to store knick-knacks, grow herbs or bake your own desserts? Look no further than our ceramic pots. And of course, they're dishwasher friendly. Time to get creative with your pots."
Aesthetically pleasing sustainable packaging will appeal visually to consumers who care about the appearance of their products—and will continue to appeal to those consumers even post-consumption, encouraging them to repurpose the packaging for other uses. Yoplait's Oui, a French-Style yogurt, are poured and set into small glass pots, which not only elevates the product visually—attracting consumers who pay attention to packaging aesthetics—but offers a post-consumption container that can be reused:
"Why NOT a glass pot? When we set out to make this exceptional yogurt, we considered every little detail. And that includes the container. Our glass pot is not only recyclable and great for reuse, but it also protects the integrity of the yogurt's texture during the production and shipping process ensuring our consumer's experience the best possible French style yogurt every single time."
Companies all over the world, big and small, are playing with innovative packaging design for myriad types of foods and drinks. The innovation doesn't stop here, either—it will continue to grow, change, and thrive as both retailers and consumers get smarter about making sustainability not just a practice, but a lifestyle.
Sustainable Packaging: An Ongoing Innovation
Like any challenge in sustainability, the perfect sustainable packaging does not yet exist. It's an ongoing problem in need of ongoing, innovative solutions. As the grocery industry learns more about how best to reduce environmental impact—for consumers, as well—sustainable packaging available will become increasingly prevalent and increase exponentially in reach. The path to a more sustainable grocery supply chain—from CPG to supplier, to grocery store, to consumer, to the home—will be imperfect but impactful, so long as retailers embrace clear initiatives to try their best in sustainable practices. Dedication to sustainable packaging is a wonderful first step that brands such as those discussed in this post have already begun taking.
Stay tuned for further research on how the grocery industry can lead in post-pandemic sustainability.