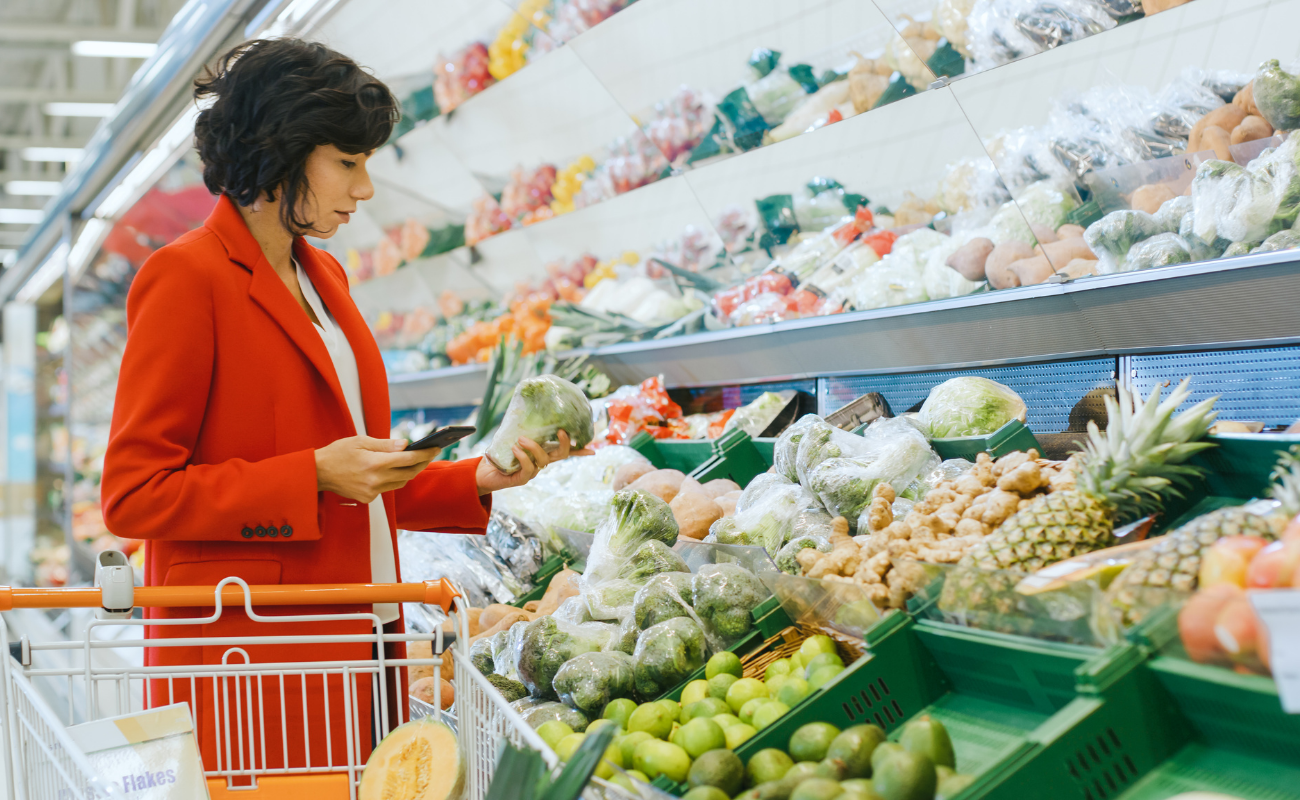 In an effort to continue the conversation around what grocery retailers are investing in post-COVID, this post will delve into three grocery categories that retailers are focusing on to innovate into the future. Omnichannel shopping, retail sustainability, and retail operations are three key categories in which retailers operate continuously; and as the past year and half has proven, the pandemic wrench in the system makes innovation and improvement in these categories more critical than ever. As grocery executives navigate the robust new landscape of online grocery, the continuing challenge of food insecurity, and creating an in-store shopping experience that doesn't compromise time or quality, take note of these examples of how some retailers making today's innovations work for tomorrow's success.
Omnichannel: User-Friendly Digital Storefronts
As ecommerce settles in to stay in the retail industry, creating user-friendly digital storefronts has become a key priority. Consumers are going to continue shopping online; why not make it as easy as possible for both shopper and grocer? This is why many supermarkets are teaming up with technology solutions to make the digital shopping experience as seamless and accessible as it can be. The Fresh Grocer recently introduced a new digital storefront powered by the ThryveAI online ecommerce solution. The retailer is the fifth Wakefern Food Corp. front to incorporate the online platform, and hopes the launch will create a "centralized, scalable solution with a flexible content management system that enables non-technical users to manage the look and feel of their digital storefronts."
Omnichannel grocery shoppers purchase online more often and typically spend up to 20% more than in-store shoppers. Capturing this revenue must be quick and easy; ecommerce platforms should be simple, smooth, and intuitive. A busy, complicated interface will discourage shoppers from putting in extra effort where they are trying to save time, and may prevent them from trying ever again. Elizabeth Goodbread, director of digital commerce at Wakefern, says that the Fresh Grocer's site is "modern, easy to use and clean. We made many improvements to our customer experience, including enhanced search functionality, improved navigation features to make it easier to locate specific items, a simplified checkout and time-slot reservation process, as well as enhanced product landing pages that help customers make informed purchasing decisions."
Modern, easy to use, and clean are buzzwords when it comes to web design these days for a reason. Putting the power to purchase online easily is the #1 best practice grocers can stick to when investing in ecommerce development and design. Keep it simple; consumers care about personalization and ease, not fancy, overbearing design. Partnering with developers and advertising agencies to make the most of the online space is one way that retailers are optimizing their digital storefronts for the best possible customer experience.
Retail Sustainability: Tackling Food Insecurity
Google recently rolled out a free food support site aimed at confronting food insecurity. The Find Food Support website opens with the following: "1 in 8 Americans will experience food insecurity during their lifetimes. If you're facing food insecurity, you are not alone, and Google has created this site to help you find community-based support." In a food ecosystem replete with food insecurity, providing basic resources and support becomes the responsibility of the community. In a recent blog post, Google reported that searches for "food bank near me," "Supplemental Nutrition Assistance Program (SNAP)," "food stamps application" and "school lunch pick up" hit record highs this past year—emphasizing just how important the fight to feed Americans in need has become.
Given the health crisis and widespread unemployment brought about by the pandemic, retailers have had to re-evaluate the way SNAP is incorporated into the retail landscape. Before and beyond the pandemic, the grocery industry is working to address food insecurity, from turning to technology like pickup lockers to close last-mile gaps to expanding access to using SNAP benefits for online orders.The USDA's SNAP online pilot is ramping up approval of grocers under the online program to allow an online venue for those looking to use the program's resources. In a market saturated in ecommerce, the incorporation of SNAP benefits is a no-brainer best practice.
Grocers across the country are stepping up to the challenge of food insecurity in their communities, whether on a large or small scale. Dollar General seeks to provide produce and healthier foods to the nearly 75 percent of the U.S. population that live within five miles of one of its stores, as well to provide up to 20 million meals each year through its partnership with Feeding America. At the end of June, Seattle food co-op PCC Community Markets introduced its new affordably priced, easy-to-prepare Shared Value Meals, which can feed up to four for under $10. The 15-store chain demonstrates ongoing efforts to address food insecurity over its Puget Sound market.
Big or small—fueled by Google or not—food insecurity is an enduring challenge in today's food landscape. Grocery corporations—national or local—share responsibility in helping the 42 million people that may experience food insecurity in 2021. Innovations in making SNAP accessible and widespread and making groceries more affordable to food-insecure communities must continue with thoughts of high-quality customer service to all shoppers, as well as attention to sustainability and reduction of food waste in the grocery sector. Continuing to adjust and amend expectations and make resources available and accessible will be key to furthering how effective grocers can be in facing the food insecurity crisis.
Retail Operations: In-Store Experience & Marketing
As more consumers return to in-person grocery shopping, retailers are amping their in-store marketing efforts. While digital advertising through websites and apps is an increasingly convenient way to reach consumers, the benefits of dynamic, visual marketing content will always remain viable to grocers. The physical experience of shopping in-store, browsing aisles is priceless to increasing the likelihood of last-minute impulse buys. Marketers and grocers are even more aware of the importance of capturing a consumer's loyalty post-pandemic, when swift and sudden changes jolted what consumers knew about grocery shopping. Keeping in-store consumers remains critical as ecommerce takes a fierce hold of the market; although business brought about by online shoppers is still revenue, keeping consumers coming back to the physical store can add weight to how often that consumer will shop with the retailer in the future, in-person or online.
The grocery shopping experience has turned hybrid: Engaging consumers equally on and offline is mandatory practice. Gil Larsen, managing director of Blis U.S., notes that "ultimately, the next generation of retail shoppers is demanding an omnichannel experience that provides the same value and convenience regardless of which channels they use." Grocers who neglect the in-store experience to amp up ecommerce run the risk of alienating shoppers that prefer the physical experience; same goes for the reverse.
As the pandemic eases, retailers are reclibrating to an influx of returning in-store shoppers by reallocating marketing funds. A Blis survey of 100 North American retailers found that 36% of respondents said they will move their budgets to in-store marketing efforts, followed by e-commerce at 31% and brand awareness at 25%. Initiatives to keep consumers happy online and off are already shaping up to involve making even the in-store experience hybrid: creating myriad ways to pick up pre-made meals or meal ingredient kits—competing with meal delivery kit services and fulfill growing consumer interest in eating at home, even post-pandemic—or provide micro-experiences within the store through events or classes. Highlighting experiential activities like this will emphasize the must-have aspects of in-store shopping; components that shoppers can't get anywhere else, such as "a sommelier to guide customers down the wine aisle, a deli assistant to offer insights about meats and cheeses, tasting and sampling opportunities, and the like."
Continuous Innovation: Digital Storefronts, Food Insecurity, & The In-Store Experience
The only constant in the landscape of retail is the constant change. Omnichannel, retail sustainability, and retail operations will shift and develop with the needs of the consumer and the economy. But grocers can take tangible steps to keep up: Paying care and attention to the design and usability of digital storefronts, making accessible resources that address food insecurity in the community, and refocusing attention to experiential in-store shopping experiences. With 2021 now more than halfway over, retailers will be looking toward what the next year will mean for the industry. Keeping sights on the malleable landscape of digital shopping and critical moves in sustainability will allow grocers a fresh eye on the future.
Watch our blog for updates on how ADC is helping grocers thrive in the new digital landscape of reducing expired shrink.